Return to our
Bookmark page

Home Page

Continue to
Home page I

View our
Home Pages

mummers ( song )
Welcome to Design by Diane. On the following pages we have provided information links to a variety of products and services.

We offer a full suite of personalized design services for "your home or business".

We work with General Contractors, Remodeling Specialists, Interior Designers, and other Individuals to provide consultation and design advice, as well as" Magical Painted Effects ©" for all your design needs.

Please left click on the arrow buttons at the top of the page to continue to Home Pages I - V for information on our web site.

Right click for copyright information.

Hover the mouse cursor over the buttons for categories information.

Left click on the buttons below to go to view our products and services.


Please L-Click on this page below to view
more items available at Diane's links page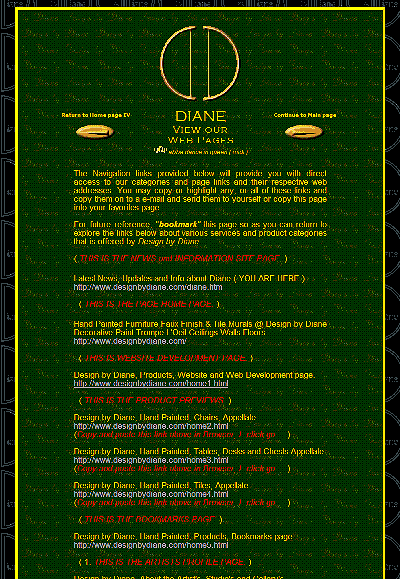 This website is best viewed at 1024 X 768 or 800 X 600 screen resolutions at high color for best results.

You may E-Mail us at.
About the Artists
Studio and Gallery

Payment and
order Methods

Photography
Galleries
Hand Painted
Furniture

Walls, Murals, Tiles
Floors and Carpets

Oil or Watercolor
Paintings
View our Studio
Locations

News and links for the Venice, Englewood, Northport, Port Charlotte Arcadia Florida areas.
Area news and links for the greater Greenwich, Stamford Connecticut areas.
---
The Design by Diane website and it's affiliates are designed by and
is maintained by Designs by Award . © 2002 Designs by Award .
This page was last updated on
---
Best viewed with :
5.5 or higher
or :

7.0 or higher
---